Rhythm The M3 will be showcasing his skills in Dallas for a chance to perform at the A3C Festival in Atlanta!
Come out and be a part of the experience!

Powered By:
ReverbNation.com | HipHopDX.com | SonicBids.com
Top Shelf Shows | Co-Sign Magazine | Cool Beings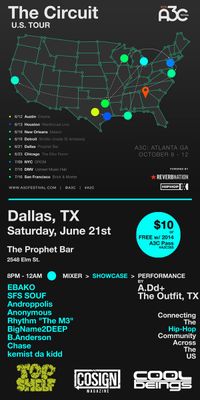 Connecting the Hip-Hop Community Across the US!
2014 A3C Festival in Atlanta (Oct 8-12) will include The Circuit showcase featuring the best up-and-coming performers from across the US.  Over 3,000 artists submitted to perform on The Circuit tour, and A3C Ambassadors have selected the best artists, which will perform in front of a local crowd for a chance to  represent their city on The Circuit showcase at the 10th Anniversary A3C Festival.

A3C's The Circuit in Dallas will feature A3C Alumni A.Dd+ & Outfit, TX.  OG Ron C (Chop Stars), Steve Bawlser (RedBull), JKruz (97.9 The Beat), Jesse Porter, Young Starr & Kiki J (K104) will host the event and help select the best performer of the night.
FREE entry to The Circuit for anyone who has purchased a 2014 A3C Festival pass. #A3C365